Zoom window
Summary
Use
Zoom window
to
zoom in
the document space under the mouse cursor: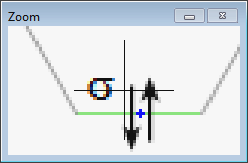 Usage
To show
Zoom window
click the menu
Window --> Zoom
.
As the mouse cursor moving the
Zoom window
will show a zoomed space of the document on which mouse cursor is on.
It may be used e.g. for more accurate arrangement of
text label
.